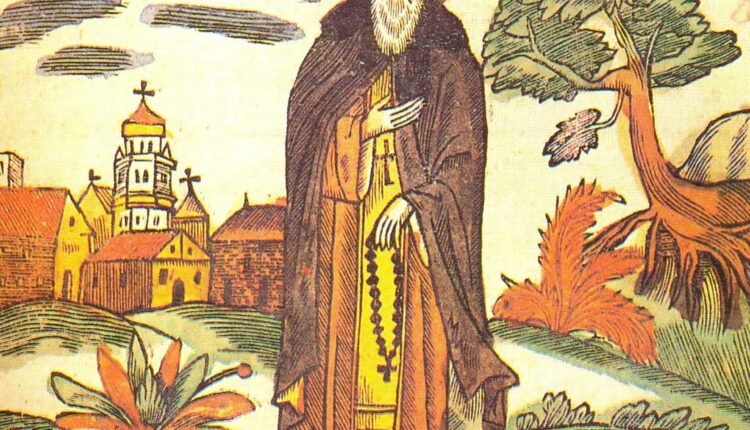 Saint Of The Day For 14 February: Saint Isaac Of Pecerska
Among the love follies of the forerunner Valentine's Day, a figure set in the current theatre of war in Kiev: Saint Isaac of Pecerska
Today, 14 February, the war counter on the Russian-Ukrainian front touches one year.
On that distant 24 February 2022, a series of unthinkable attacks and rear-guards began, which still persist to this day.
And we want, with the madness of St Valentine's Day, to give breath to this tachycardic call for peace by turning our gaze to the roster of Ukrainian saints rooted in Kiev.
Today's saint, venerated by the Ukrainian church, is St Isaac of Pecerska, or St Isaac of the Caves.
The same nickname, almost a nickname, is used by a whole host of saints who are part of a movement with well-defined behaviour and choices.
Let us look at them together.
The Ukrainian Saint Valentine: what was the tradition followed by Isaac among the Fools in Christ
The movement of the Fools in Christ or fools of God corresponds to extreme life choices, radically renouncing everything.
Living on rags, pure hospitality, without adequate nourishment with tendencies towards asceticism.
After all, the Desert Fathers, whose stories of the Russian pilgrim are famous, were somewhat of these wanderers of God, but they knew how to instil the desire to seek God, starting from oneself and often fleeing from the world.
Isaac was a Ukrainian Christian monk who sought in his own way the wisdom of the heart
The passion of Jesus has a grip and bite even on the judgement of others, on those who would rather despise than believe.
Simulating madness is equivalent for cave monks like Isaac to immolating themselves in Jesus' passion.
Even if in very isolated forms, even today in some monastic orders, there are inmates or recluses who decide to avoid any kind of contact with the outside world.
Isaac had this vocation as the rich merchant that he was: he decided to live mostly in the Kiev cave monastery and was consecrated a monk there by Antony and Theodosius.
The main sources are contained in some texts handed down to us by St Nestor the chronicler, clearly composed in the ancient language.
Invoking peace and forgiveness with the help of St Isaac and even more shalom that radiates a lapel of joy and harmony, here are some lovely words from our founder Fr Giacinto Bianchi: "Perfect mercy is composed of sincere love and peaceful sorrow. Where there is no peace, there is no perfection. The doves love groaning. Light and water embellished by stillness".
Sister Ines Carlone Daughters of Mary Missionaries
Read Also
Saint Of The Day For February, 13: Blessed Angelo Tancredi
Saint Of The Day For February, 12: Saint Eulalia
Gospel Of Sunday February, 12: Matthew 5, 17-37
Earthquake In Syria And Turkey, Pope Francis Prays For The Intercession Of The Virgin Mary
Earthquake In Syria And Turkey, Prayer And Church Commitment For 23 Million Human Beings
Pope Francis In Africa, Mass In Congo And The Proposal Of Christians: "Boboto", Peace
Lula Brings New Environmental Hope To Catholics In Brazil, But Challenges Remain
Source