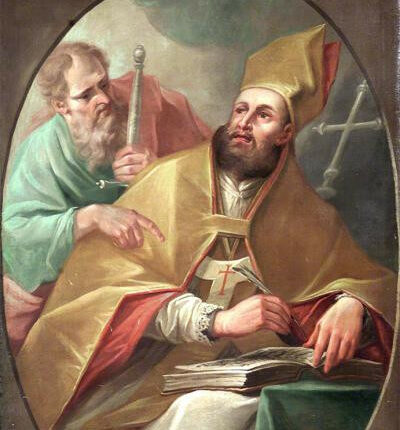 Saint of the Day for 13 September: St John Chrysostom
St John Chrysostom: the life and works of one of the most important Church fathers
Name
St John Chrysostom
Title
Bishop and Doctor of the Church
Birth
c. 349, Antioch of Syria
Death
14 September 407, Comana on the Black Sea
Recurrence
13 September
Martyrology
2004 edition
Prayer
O glorious St. John Chrysostom, who, in measure of your advancement in profane studies, still progressed in the science of health, by which, even as a young man in Athens, you had the glory of confounding so many pagan philosophers, and of converting the celebrated Antemius into a fervent Christian, intercede for us all the grace of always using our enlightenment to advance in the knowledge indispensable to health, and procure to all power the conversion and improvement of all our brothers. Amen.
Saint Patron of
Asola
Roman Martyrology
Memory of Saint John, Bishop of Constantinople and Doctor of the Church, who, born in Antioch, ordained priest, deserved for his sublime eloquence the title of Chrysostom and, elected bishop of that See, showed himself to be an excellent pastor and teacher of the faith. Condemned by his enemies to exile, he was recalled from it by decree of Pope Saint Innocent I and, on his return journey, suffering much ill-treatment by the soldiers of the guard, he rendered his soul to God at Gumenek in Pontus, in present-day Turkey, on 14 September.
The Saint and Mission
St John Chrysostom, whose feast we celebrate on 13 September, is a shining example of how the word of God can be used to illuminate the darkness of the world. He, the 'Golden Mouth' of the Church, with his eloquence and theological depth, dedicated his life to a mission of education and spiritual formation of God's people.
John Chrysostom saw the Christian mission as an imperative need to live the Gospel in every aspect of daily life. Through his sermons, which still resonate with vibrant relevance today, he passed on to us the message of a Christianity lived in daily practice, where faith is translated into works and doctrine finds concrete application in people's lives.
His mission was not just to preach, but to promote real social transformation, calling for the elimination of inequalities and promoting a fairer distribution of wealth. Through his ministry, John Chrysostom left us a model of radical pastoral care, unafraid to confront injustice and taking seriously the commitment to build a more just and fraternal society.
But his mission was not just limited to words; it was a mission incarnated in service to others, especially the poorest and most marginalised. St John Chrysostom taught us that the mission of the Church is to be a 'Church of the poor', where service to the poor is not just a moral duty, but a concrete means of incarnating Christ's love in the world.
This Saint teaches us, therefore, that the Christian mission is essentially one of love and service, where every word spoken finds its fulfilment in action. His life and ministry are a powerful reminder to live our faith consistently, witnessing to the Gospel not only with words, but with our whole life.
In today's world, where divisions and inequalities seem to be increasingly accentuated, the message and mission of St John Chrysostom resonate with renewed urgency. They call us to be agents of peace and heralds of justice, to bear witness to the light of the Gospel in a dark world, to live our Christian commitment with deep coherence.
We therefore invite, in the light of the teaching of St John Chrysostom, to rediscover the true meaning of the Christian mission, which is one of profound love for God that translates into an authentic love for our neighbour, especially the poorest and most needy. Let us model ourselves on his life of dedication and service, so as to truly incarnate the Gospel in our time, transforming our mission as Christians into an authentic service to the world, illuminated by the light of divine Truth.
The Saint and Mercy
St John Chrysostom, whose name means 'Golden Mouth', is recognised for his excellent oratorical skills and the depth of his sermons. His reputation extends far beyond the boundaries of time and his role as Father of the Church, offering teachings to this day that are valuable guides for the Christian life.
The concept of mercy was central to Chrysostom's ministry and teaching. Through his words, we can perceive a profound understanding of mercy not only as an attribute of God, but as a quality that should permeate every aspect of the Christian life.
St John Chrysostom interpreted mercy in a broad and profound sense, not limited only to compassion or altruism, but as a radical and transforming attitude that aims at social justice and human dignity. His theology of mercy extended from the forgiveness of sins to caring for the material needs of the poorest and most vulnerable.
In his teaching, Chrysostom often reiterated the importance of mercy, emphasising that it is an intrinsic value of the Gospel message. In this sense, for him, mercy was both an individual and a communal responsibility, a duty of every Christian and of the Church as a whole.
For John Chrysostom, mercy was not an option, but an imperative. In his sermons, he invites us to see Christ in the face of the poor, the sick, and the oppressed, and urges us to respond with a merciful love that goes beyond mere pity, towards an active commitment to justice and the well-being of others.
Chrysostom always emphasised that true mercy goes beyond giving alms; it embraces a way of life that reflects the heart of God, who is infinitely merciful. And herein lies one of the most powerful lessons of St John Chrysostom: mercy as a way of living that reflects the image and likeness of God.
This Church Father teaches us that being merciful is a vocation that calls us to see beyond ourselves, to expand our hearts to include others, especially those most in need. His teaching on mercy challenges us to be not only hearers of the Word, but also doers, embodying God's mercy in our daily lives.
In a world that often favours individualism and self-promotion, the message of St John Chrysostom is a powerful and necessary call to humility, understanding and, above all, mercy embodied in active charity. His life and teachings continue to be a source of inspiration, urging us to live a life of deep mercy, rooted in love of God and service to others.
Hagiography
John nicknamed Chrysostom, or Golden Mouth, because of his wonderful eloquence, was born in Antioch.
At a very young age he was deprived of his father. He was left with his holy mother, who thought of nothing else but faithfully fulfilling all the obligations of a Christian mother towards her children.
Chrysostom studied rhetoric and philosophy under the tutelage of the best teachers of his time and…
Source and Images