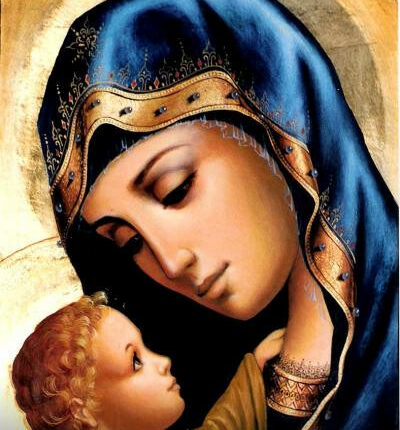 Saint of the Day for 12 September: Most Holy Name of Mary
The Most Holy Name of Mary: a mystery of love and mercy
Name
Most Holy Name of Mary
Title
Mary's love for her Son
Recurrence
12 September
Martyrology
2004 edition
Prayer
Remember O most pious Virgin Mary, never has it been heard that those who have had recourse to You, implored Your help, asked for Your succour, have been abandoned. I, animated by such confidence O Mother, Virgin of Virgins to You I come, before You a contrite sinner I prostrate myself; do not, O Mother of the Word, disdain my prayers, but listen to me and hear me. Amen.
Saint Patron of
Quarto, Poggio Rusco, Verzuolo, Buti, Busalla, Peveragno, Capriva del Friuli, Calliano, Osiglia, Cecima
Roman Martyrology
On this day, the ineffable love of the Mother of God for her most holy Son is commemorated, and the figure of the Mother of the Redeemer is proposed to the faithful to be devoutly invoked.
The Saint and Mission
The celebration of the Most Holy Name of Mary invites us not only to reflect on the intrinsic meaning of this sacred name, but also to understand its central role in the evangelical mission of spreading love and goodness in the world.
Mary's name carries with it a sense of mission and responsibility; it is a symbol of dedication, acceptance and unconditional service. In the context of God's redemptive plan, Mary assumes the role of mediatrix and intercessor, having been chosen to be the mother of the Saviour, the one who would bring light into the world.
Mary's mission, underlined by the celebration of her most holy name, is one of guidance and inspiration for us all. She, who unhesitatingly accepted the divine commission to become the mother of Jesus, shows an example of total surrender to God's will, demonstrating unwavering trust and boundless dedication to her mission.
In the context of our contemporary life, Mary's name thus becomes a call to action, a call to each of us to undertake a mission of love, service and dedication to others. It reminds us that we are all called to be part of a greater mission, that of building a more just, more compassionate and more loving world.
The mission associated with Mary's name is one of bridge-building, unity and reconciliation. Mary calls us to look beyond divisions, to seek what unites rather than what divides, and to work together for the good of all. She invites us to see the face of God in each person we meet, and to serve others with love and dedication.
Moreover, Mary, through her willingness to say 'yes' to God, shows us how to accept with courage the challenges presented to us in life, supporting our personal and collective mission with strength and tenacity. Her figure becomes a moral and spiritual guide, encouraging us to face difficulties with faith and hope, trusting in God's support and love.
Celebrating the Most Holy Name of Mary is thus a call to mission, an invitation to follow Mary's example in our daily lives, welcoming each person with love and respect, and placing ourselves at the service of others with generosity and dedication, thus helping to build a more just and compassionate world.In evoking the Most Holy Name of Mary, we are thus invited to deepen our understanding of the Christian mission of love and service, learning from Mary how to live our call to be witnesses of God's goodness and love in the world with authenticity and courage.
The Saint and Mercy
The celebration of the Most Holy Name of Mary takes us to a dimension where mercy is the focal point of the Gospel message and the entire Marian mission. Celebrating this day is not only a tribute to the mother of Jesus, but also a way to acknowledge the depth of mercy that was shown through the incarnation of Christ, an event in which Mary played a crucial role.
Mary, with her unconditional availability to divine action, presents us with a model of total acceptance of and trust in God, a God who reveals himself through mercy, who comes close to suffering humanity to heal and save it. Her unconditional 'yes' to the angel during the annunciation symbolises an active and cooperating mercy that unreservedly accepts the divine plan of redemption and love for humanity.
Mary's name, therefore, becomes synonymous with mercy, a constant reminder of the gentleness, compassion and unconditional love that should guide our every gesture and thought. Mary teaches us that mercy is not a simple emotional empathy, but an active virtue that asks us to welcome the other, to listen and to put ourselves at the service of our neighbour, especially the most fragile and needy.
Moreover, the invocation of Mary's name in our prayers and reflections reminds us of the importance of cherishing and venerating all that is sacred and precious in our lives. Through meditation on the deeper meaning of her name, we are called to develop a deeper and more loving relationship with mercy, seeing it not only as a divine attribute, but as a quality that each of us can and should cultivate in our daily lives.
In a world where individualism and indifference often prevail, reflection on the Most Holy Name of Mary and mercy encourages us to choose the path of love, acceptance and mutual understanding. It invites us to look at others with the eyes of mercy, ready to forgive and understand their frailties, just as Mary did with her generous and merciful yes, laying the foundations for the work of redeeming the world.
Indeed, this feast invites us to internalise mercy in our daily lives, echoing the message of Mary, a woman who embodied the pure essence of divine mercy through her unconditional faith and selfless service.
Remembering and celebrating Mary's Most Holy Name is therefore an invitation to embrace and practise mercy in all its forms, bringing light, love and hope to a world in great need of it, and thus guiding our community towards greater unity and mutual understanding through imitation of the model of mercy that Mary left us.
Hagiography
Martyrs, saints (period uncertain). The existence of these two Roman martyrs is historically proven by the fact that already in the 4th century Pope Damasus composed an inscription for their tomb.
Legendary, however, is the story of their lives: they are said to have been two eunuch brothers, slaves of the noble Eugenia, daughter of Philip the noble prefect of Alexandria in Egypt, whom they converted to Christianity.
Eugenia would give the two young men to the noble Bassilla, who in turn converted thanks to their teachings. They carried out further conversions, until they were arrested and…
Source and Images