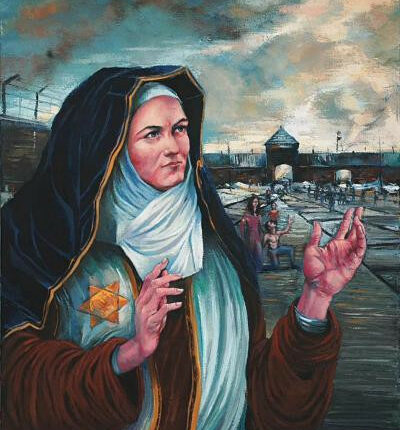 Saint of the Day for 09 August: St Teresa Benedicta of the Cross
Between faith and reason, the story of a converted philosopher
Name
Edith Stein
Title
Martyr
Birth
12 October 1891, Wroclaw, Poland
Death
09 August 1942, Auschwitz Concentration Camp, Poland
Recurrence
09 August
Martyrology
2004 edition
Beatification
01 May 1987, Germany, Pope John Paul II
Canonisation
11 October 1998, Rome, Pope John Paul II
Prayer
Bless all darkening hearts. Above all, give relief, Lord, to the sick, the afflicted, who bring their loved ones to the grave. Peace to them. Teach them to forget. Leave no heart on earth in anguish over sin. Bless those who are happy, Lord: keep them under your protection. Thou hast never taken away from me Our Lady's habit, the religious habit. It sometimes weighs heavily on my weary shoulders. Give me strength, that I may wear it in penance to the grave. Finally, bless my sleep, the sleep of all the dead. Remember for what your Son suffered in the agony of death. In your great mercy for all human needs, give rest to all the dead in your eternal peace.
Protector of
Jewish converts, youth
Roman Martyrology
St Teresa Benedicta of the Cross (Edith) Stein, virgin of the Order of Discalced Carmelite nuns and martyr, who, born and educated in the Jewish religion, after teaching philosophy for some years amidst great difficulties, embarked on a new life in Christ through baptism, continuing it under the veil of consecrated virgins, until under an impious regime contrary to human and Christian dignity she was thrown into prison far from her homeland and in the Auschwitz extermination camp near Krakow in Poland she was killed in a gas chamber.
The Saint and Mission
St Teresa Benedicta of the Cross, born Edith Stein, is an icon of conversion, martyrdom and profound dedication to the truth. A philosopher of Jewish origin, Stein converted to Catholicism after reading the life of St Teresa of Avila, later entering the Order of Discalced Carmelites and taking the name Teresa Benedicta of the Cross.
Her mission was characterised by an extraordinary synthesis of philosophical research and Christian spirituality. Through her work, she sought to integrate phenomenological thought with Christian theology, contributing significantly to the dialogue between faith and reason. Her commitment to truth and her conviction that God can be found through the human intellect were hallmarks of her mission.
Teresa Benedicta also had a strong sense of solidarity with the Jewish people. Despite her conversion, she never denied her Jewish roots and sought to build bridges of understanding between Jews and Christians. This ecumenical commitment is an essential part of her mission.
The mission of St Teresa Benedicta of the Cross was marked by martyrdom. She died in Auschwitz in 1942, a victim of the Holocaust. Her death is a powerful testimony to her faith and dedication to the truth, despite the most extreme persecution.
The life and mission of St Teresa Benedicta of the Cross are an example of how faith and reason can enrich each other and how love for the truth can lead us to the highest form of sacrifice.
The Saint and Mercy
St Teresa Benedicta of the Cross is a shining example of how divine mercy can transform a life. Her story is a testimony to the redemptive power of mercy, shown through her conversion from Judaism to Christianity, her entry into the Discalced Carmelite order, and finally her martyrdom in Auschwitz.
Mercy is a central theme in the life of St Teresa Benedicta of the Cross. As a philosopher, she reflected deeply on the nature of compassion and mercy, coming to understand that mercy is the expression of divine love for humanity. This understanding influenced her theology and spirituality, leading her to live a life of total surrender to the divine will.
In her journey of conversion, St Teresa Benedicta experienced God's mercy at first hand. Reading the works of St Teresa of Avila, she encountered God's merciful love so profoundly that she felt called to convert to Catholicism. This experience changed the course of her life, leading her to consecrate herself totally to God as a Carmelite.
Even in suffering and martyrdom, Saint Teresa Benedicta showed extraordinary mercy. During her time in Auschwitz, she sought to alleviate the suffering of her fellow prisoners, demonstrating a great capacity for compassion even in the most terrible circumstances.
St. Teresa Benedicta of the Cross is a model of how divine mercy can transform a life, lead us to a deeper union with God, and inspire us to act with compassion towards others, even in times of great suffering.
Hagiography
Teresa Benedicta of the Cross (Edith Stein) was born on 12 October 1891 and is one of the most extraordinary, fascinating and complex figures of the last century. She was one of the very few women of her time who was able to study and teach philosophy, penetrating the paths of an existential quest that had always been reserved almost exclusively for males. And she did so with felicitous results, succeeding in establishing herself alongside one of the great masters of 20th century philosophy, Edmund Husserl.
As she herself confessed, "from the age of thirteen I was an atheist because I could not believe in the existence of God". But, stretched into a…
Source and Images