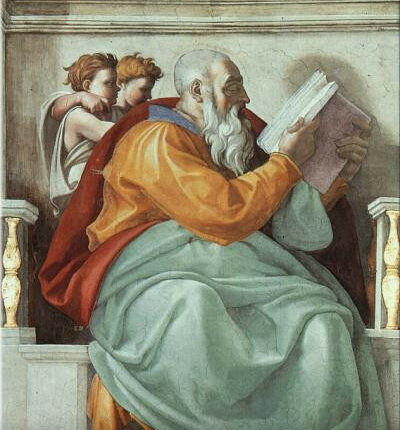 Saint of the Day for 06 September: St Zacharias
Saint Zacharias: prophet, priest and father of John the Baptist
Name
St Zacharias
Title
Prophet
Birth
6th century BC.
Death
5th century BC.
Recurrence
06 September
Martyrology
2004 edition
Prayer
You alone are holy, O Lord, and outside of you there is no light of goodness: through the intercession and example of Saint Zacharias the prophet, grant that we may live an authentically Christian life, lest we be deprived of your vision in heaven.
Patron Saint of
Codevigo, Ricadi
Roman Martyrology
Commemoration of Saint Zacharias, prophet, who foretold the return of the people from exile to the Promised Land, giving them the proclamation of a king of peace, which Christ the Lord admirably realised in his triumphant entry into the Holy City of Jerusalem.
The Saint and Mission
Saint Zacharias, one of the most emblematic characters in Luke's Gospel, offers a fascinating insight into how mission and personal vocation can intersect in surprising and transformative ways. As a priest in the Temple of Jerusalem, Zechariah had a traditional and well-defined mission: to serve God through ritual worship and prayer. However, his life took a miraculous turn when, late in life and after years of infertility with his wife Elizabeth, it was announced to him that he would have a son. And not just any son, but John the Baptist, the forerunner of Jesus Christ.
Zechariah's mission thus expands in a completely new direction. In addition to his priestly vocation, he becomes the father of the one who will prepare the way for the Messiah. This new dimension to his mission requires a level of faith and obedience that initially challenges him, but ultimately transforms him.
The silence imposed on Zechariah until John's birth can be seen as a period of reflection and inner growth, a time to fully embrace this new mission that God has entrusted to him. When he is finally able to speak, Zechariah erupts into a canticle of praise to God, the "Benedictus", which is a veritable manifesto of the divine mission of redemption and deliverance.
The story of St Zechariah teaches us that mission is not something static or predefined, but is dynamic and constantly evolving. He shows us that being open to divine guidance can lead to unexpected roles and responsibilities, which can in turn have an enormous impact on the lives of others and the course of history.
The greatest lesson we can draw from the life of Saint Zacharias is that mission is not just a task or a set of actions, but a journey of inner transformation that makes us ever more effective instruments of God's love and grace. In this sense, the figure of Zechariah is a source of inspiration for all those who seek to reconcile their personal vocations with the demands of a greater and more universal mission.
The Saint and Mercy
Saint Zacharias is a New Testament character often associated with fatherhood, devotion and religious service. Father of John the Baptist, Saint Zacharias is an example of humility and faith lived in the context of expectations and hopes that characterise salvation history.
When we think of Saint Zacharias in the context of mercy, we can reflect on how his life expresses that profound sensitivity and openness to the divine plan that is at the heart of mercy itself. He welcomes, albeit with initial incredulity, the angel Gabriel's announcement of a miraculous birth, overcoming his lack of faith with an act of submission and acceptance of the divine will. In this, we see a model of how divine mercy works through and in spite of our weaknesses and limitations.
Mercy is ultimately an attitude of acceptance, openness to the other and, in a religious sense, openness to the divine. Zechariah embodies this spirit through his willingness to become a father in a humanly impossible situation and through his priestly service, which is inherently an act of mediation between God and humanity.
In the canticle of Zechariah, known as the 'Benedictus', we find one of the most beautiful theological expressions of God's mercy. This prophetic hymn not only announces the coming of the Messiah but also celebrates God's merciful action in Israel's history. The canticle is a tribute to the constant and unconditional love of God, who 'visited and redeemed his people' and who 'raised up… a mighty saviour'.
In short, the figure of St Zechariah speaks to us of a divine mercy that is active, penetrating and redemptive. And he invites us to be, in turn, agents of that mercy in the world, welcoming with joy and humility the plans God has for us, even when these plans defy our understanding and expectations.
Hagiography
Zechariah was a biblical prophet penultimate of the minor prophets of the Old Testament. The son of Barachiah and grandson of Addo, he was of priestly lineage.
The book of Zechariah consists of two distinct parts. The first has as its author a prophet who lived in the 6th century B.C. and who acted upon his return from exile at a decisive moment in the formation of Judaism.
A contemporary of Haggai, he advocated the need to rebuild the temple. The exiles who had returned from Babylon were going through a period of disappointment and…
Source and Images