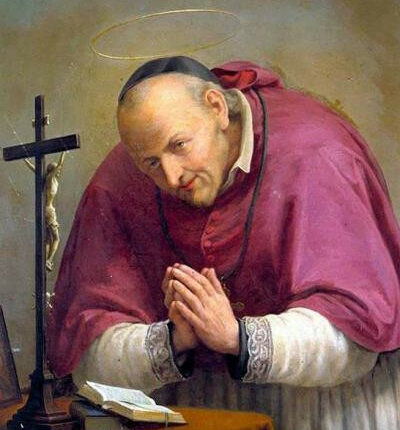 Saint of the Day for 01 August: St Alphonsus Maria de Liguori
Doctor of the Church and Founder of the Redemptorists, a legacy of compassion and dedication
Name
Alfonso Maria de' Liguori
Title
Bishop and Doctor of the Church
Birth
27 September 1696, Naples
Death
1 August 1787, Nocera de' Pagani, Salerno
Recurrence
01 August
Martyrology
2004 edition
Beatification
15 September 1816, Rome, Pope Gregory XVI
Canonisation
26 May 1839, Rome, Pope Gregory XVI
Prayer
O most faithful servant of Mary, St. Alphonsus, you who know how much she deserves to be served, loved and honoured; implore me also to understand her excellent virtues in order to imitate them; and her lofty privileges in order to admire, praise and love her. Holy my Protector I would also like to serve her as you served her, to love her as much as you loved her, to praise her as much as you praised her, and to be as dear to her as you were to her. But these desires of mine are beyond my strength, my heart is too attached to creatures to rise so high. To you therefore I turn; my mighty advocate: obtain for me that I love Mary, honour and serve her with all my strength: and implore me especially that I always invoke her with the most consoling title of Mother of Perpetual Help. Three Gloria Patri.
Patron Saint of
Pagans, Free
Protector of
lawyers, confessors, moralists, pagans, theologians
Roman Martyrology
Memory of Saint Alphonsus Maria de Liguori, bishop and doctor of the Church, who distinguished himself by his concern for souls, his writings, his word and his example. In order to promote Christian life among the people, he engaged in preaching and wrote books, especially on morals, a discipline in which he is considered a master, and, albeit amidst many obstacles, established the Congregation of the Most Holy Redeemer for the evangelisation of the simple. Elected bishop of Sant'Agata dei Goti, he was extremely committed to this ministry, which he had to leave fifteen years later due to the onset of serious illness. He therefore spent the rest of his life in Nocera dei Pagani in Campania, amidst great sacrifices and difficulties.
The Saint and Mission
Alfonso Maria de' Liguori, founder of the Redemptorist order and an important Doctor of the Church, is a key figure in the Catholic tradition, especially in the context of mission and evangelisation.
Consecrated to the mission of reaching out to the most marginalised, Alphonsus dedicated his life to preaching the Gospel in rural areas and places often neglected by the Church. His deep passion for souls drove him to tireless commitment, and his simple and accessible preaching style touched the hearts of many.
At the centre of his mission was the merciful love of God, which Alphonsus sought to communicate through words and deeds. He not only preached fervently, but also showed a deep compassion and understanding for the difficulties of ordinary people.
Alphonsus' mission extended beyond his own life through the Redemptorist order, which continued to dedicate itself to evangelisation, especially among the most needy. His moral theology, centred on God's mercy, has profoundly influenced Catholic thought and continues to be a guide for those who seek to live and share the Christian faith in an authentic and compassionate way.
In short, Alphonsus Maria de' Liguori is a model of missionary dedication, showing how love for God and neighbour can be transformed into tireless service for the Gospel. His life and work are a constant reminder of the importance of reaching hearts through understanding, compassion and genuine love.
The Saint and Mercy
In his moral theology, Alphonsus emphasised God's goodness and mercy rather than fear of punishment. He was known for his gentle and understanding pastoral care, especially in the sacrament of confession, where he sought to guide penitents towards God's forgiveness rather than intimidate them with the law.
This emphasis on mercy was also evident in his commitment to the poor and marginalised. As founder of the Redemptorist order, he dedicated his life to reaching out to those who were often neglected by the Church, showing them the love and compassion of Christ.
Mercy was not only a theological theme for Alphonsus, but a lived reality. His willingness to listen, understand and forgive embodied God's merciful love in a tangible and accessible way.
In short, Alphonsus Maria de Liguori offers us a vision of mercy that goes to the heart of the Christian message. His life and teaching are a powerful reminder that God's mercy is at the core of our faith and that we are called to be instruments of that mercy in the world. His legacy continues to inspire the Church in its mission to proclaim God's infinite and unconditional love for all.
He founded
The Order of the Redemptorists, officially known as the Congregation of the Most Holy Redeemer, was founded by St. Alphonsus Maria de Liguori in 1732. The main mission of this Catholic religious order is to evangelise and serve the poor and marginalised, especially in rural areas and the most neglected corners of the world.
The Redemptorists are known for their passionate preaching and commitment to spreading the message of the Gospel. Their approach to pastoral work is characterised by compassion and understanding, following their founder's teaching on God's mercy.
Besides preaching, the order is also dedicated to education and social work, offering support and spiritual guidance to those in need. Their spirituality is centred on the redemption offered by Christ and the call to be witnesses of God's redeeming love.
The Order of Redemptorists represents an important contribution to the mission of the Catholic Church, with an emphasis on mercy, evangelisation and service to the needy. Their dedication to the cause of the poor and their commitment to bring the message of the Gospel to all continues to inspire and challenge the Church today.
Hagiography
He was born on 27 September 1696 in Naples into the noble De' Liguori family. He received a saintly and energetic education from his good parents, to which little Alfonso did not fail to correspond, retaining a special predilection and a lively feeling of gratitude towards his mother throughout his life.
With careful and indefatigable study, he obtained his degree as a lawyer at only sixteen years of age. After having practised his profession with brilliant success for several years, due to an unintentional mistake in the…
Source and Images