Benin: Forum on the reEvolution of Works of Mercy
First Spazio Spadoni Forum on the reEvolution of the Works of Mercy in Cotonou (Benin)
Beninese people are actively preparing to participate in the Forum on the reEvolution of Works of Mercy desired, organized and supported by Spazio Spadoni in Cotonou and scheduled for November 25 and 26, 2023.
In March this year, the Diocese of Cotonou was chosen by Spazio Spadoni to organize the Forum because of its proven experience in organizing events of this magnitude. Coordination of the activities was entrusted to the Focolare Community of Benin in the person of Sister Helen Chizoba O.; Sister Beatrice Franciscan of St. Pius, who had already carried out OPERAM training in Italy last year, also contributed.
On June 28, 2023, a delegation went to the Archbishop of Cotonou, Monsignor Roger HOUNGBEDJI, O.P. to present the organizational program of the Forum to him and receive his blessing. On this occasion, the bishop was able to meet Luigi Spadoni, founder of Spazio Spadoni, online and exchange fraternal words with him to express his support. After this relevant meeting, the organizing staff started the concrete preparation of the "Forum," "reEvolution of the Works of Mercy."
After setting the date of the Forum on November 25-26, 2023, the Archbishop entrusted the preparation of the various activities of this Forum to Sister Hélène, his Episcopal Vicar for Institutes of Consecrated Life and Societies of Apostolic Life, Father Epiphane S. NAYETON, Mother Superior of the Sisters of St. Augustine of Benin, Mother Philomène FATON, and the President of the Union of Major Superiors of Benin.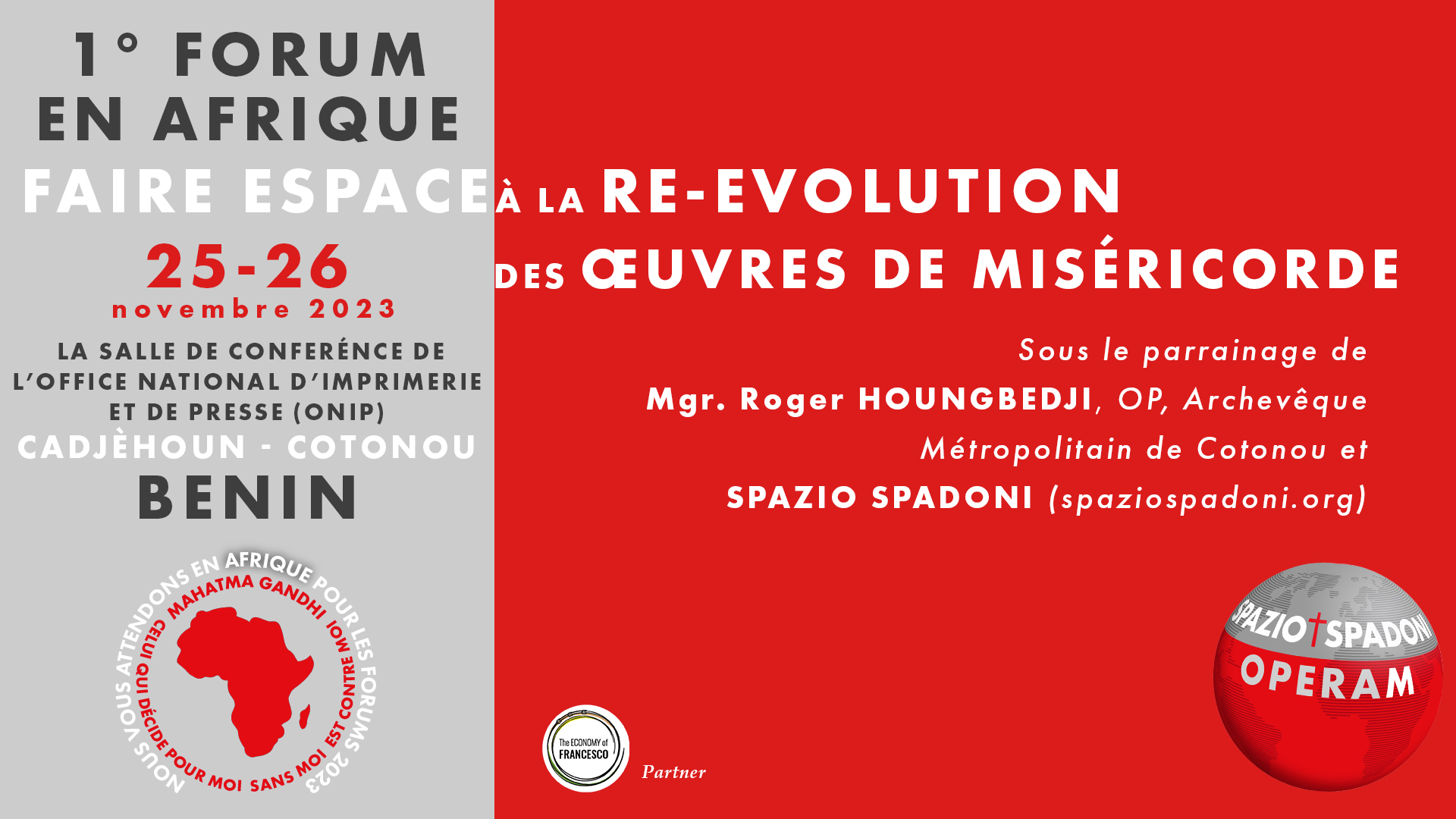 Two hundred participants are expected, including different realities of the local Church: the apostolic nuncio, bishops, priests, men and women religious, catechists, families, youth, and numerous media. Precisely the media are also being used to publicize the Forum; for example, Radio Maria has already broadcast two programs about the event. The preparation of such an important event is certainly very challenging and demanding, not least because of the lack of time on the part of the various congregations to work together. It also took a long time to find the right venue, which was well connected by means and had spacious halls available for the many participants.
Despite the many difficulties, the Forum will take place thanks to Spazio Spadoni who supports us and offers us the opportunity to experience this synodal moment in God's Mercy.
The residents of Spadoni Space are wont to repeat:

"Let us enter OPERAM! And let us flood everyone and everyone with works and say.

God's Mercy is at Work

And we always respond!"

From today start using our motto. When you greet, when you rise, when you meet, when you do and share a Work.

Let's build and cross the network of OPERAM together.
Source